Details
Flashes are used in photography to produces an instantaneous flash of artificial light at a color temperature of about 5500K to help illuminate a scene. The 300 watt strobe is a good mid-range strobe, good for studio work and larger scale on location shoots alike. It is high quality and easy to adjust, both in position and brightness. It can act as a slave, making this strobe easy to use in any environment.
(2) 300 Watt Strobe Flash MonoLights
The unit mounts onto any standard lightstand with a 5/8" or smaller mounting stud. It has a circular flash tube that is daylight balanced at 5500 deg. K, a guide number of 60 at ISO 100 and a recycling time of 5-7 seconds. It also comes with a 150 watt removable modeling lamp. The monolight Flash can be triggered through a camera sync cord or by another flash being fired and activating the built-in Photo-Slave, or through its open-flash test button. It's a compact 7.0" long with a diameter of 5-3/4" and weighs 6lbs.
- Power: 300 Watt Seconds
- Angle-adjustable bracket
- 150 Watt model light
- Recycling time of 5-7 seconds
- Color-temperature corrected (5,500K) circular flash-tube
- Includes 10' AC Power Cord, Sync Cord
- All kinds of lighting accessories available: barn-doors, snoot, color filters, honeycomb, soft boxes & umbrellas

(2) Studio Lightstand
- Solid Safety 3 Legs Stages
- Indutrial Standard Mounting Stud
- Height adjustable Min 53" - Max 80"

(2) Premium 24" x 36" Softbox
Soften light intensity through internal white cover

Size: 24" x 36"
(2) External Snow White Cover
Cover front soft box and spread light out evenly

Assembled by Easy Set-up Velcro

Made of premium Nylon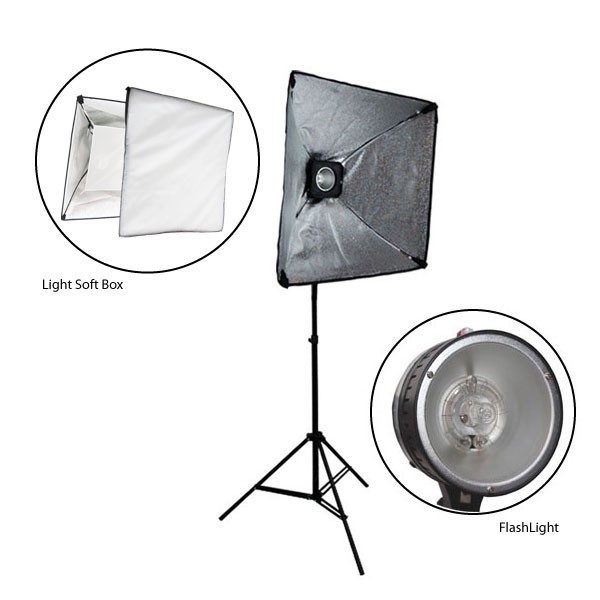 (1) Premium Background Stand
Easy to set up and store (Just needs a few seconds)

Perfect Lightweight Aluminum Tripods

Solid Safety 3 Legs Stages

Height Adjustable: Min 3.5 ft. - Max 8.5 ft.

Width Adjustable: Min 4.5 ft.

(2 cross bars)- Max 10 ft. (4 cross bars)
Heavy duty Portable Carry Bag Included free of charge
(3) Muslin Backdrop
1 x 10' x 20' Pure Cotton Muslin White Backdrop

1 x 10' x 20' Pure Cotton Muslin Black Backdrop

1 x 10' x 20' Pure Cotton Muslin Chroma- Key Green Backdrop
(1) 1 Channel Wireless Radio Trigger
This trigger is designed for photographic studio and on-location work to trigger various flash lights and strobes. The standard pack is composed of one 1 channel trigger and one self-locking radio receiver. The transmitter is to be attached on the hot shoe of the camera while the receiver is to be plugged into the studio flash. Each receiver works with one studio flash.
- Micro-computer control
- Triggering delay is 1/1600 second
- Two channels that work without interference with each other
- Receiver searches channels automatically
- Long lifetime of trigger battery, one year or over 20,000 continuous triggers
- Receiver uses two AAA batteries (not included) with power switch
- Working indication: LED
- 3.5, 6.35 adapter
- Maximum effective area: 15m (open area without interference)
(1) Mid Size Carrying bag
This Photography Equipment Zipper Bag is the ideal case for your traveling studio. This zippered bag is great for transporting light stands, umbrellas, and other accessories.
- Size: 31" x 12" x 8"
- Made of a durable, high quality material
- Designed to fit our 800w photo/video lighting kits